User:Farcyb
From www.coria-cfd.fr
Welcome on Benjamin Farcy user page.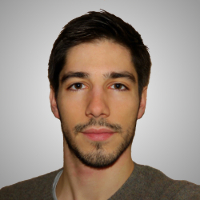 Personal Information
Benjamin Farcy
Post doc CORIA-CNRS
Former PhD Student @ CORIA
Office: INSA/Ma.B.

email: benjamin.farcy@coria.fr
email: benjamin.farcy@gmail.com
Tel: +33 (0)7 70 52 55 94

Lab Adress
CORIA
Avenue de l'Université - BP 12
76801 Saint Etienne du Rouvray

Research Activities
Code development and optimization (YALES2, SITCOMB) for Large Eddy Simulations and Direct Numerical Simulations.
Reactive turbulent flows : multi species with reduced and detailed chemistry, tabulated formulation.
Multi phase flows : Lagrangian solver, transport, evaporation of mono and multi component droplets.
Publications
B. Farcy, L. Vervisch, P. Domingo (2014) Large-eddy simulation and low-order modeling of nitrogen oxide (NOx) reduction by ammonia spray, Proceedings of the 2014 Summer Program, Center for Turbulence Research, Stanford. [LINK]
B. Farcy, A. Abou-Taouk, L. Vervisch, P. Domingo, N. Perret (2014) Two approaches of chemistry downsizing for simulating Selective Non Catalytic Reduction DeNOx Process, Fuel, 118, pp. 291-299.
PhD Thesis
Title : Analysis of Nitrous Oxides Selective Non-Catalytic Reduction (SNCR) and its application to the Large Eddy Simulation (LES) of an incinerator.
Supervisors : Luc Vervisch and Pascale Domingo at CORIA
Funding : ANRT Cifre with the chemical company SOLVAY
From / To  : December 2011 - December 2014
Research topics  :
Thermochemistry analysis of nitrous oxide reduction process (DeNOx).
Optimization procedures for building DeNOx reduced chemical schemes. Collaboration with Chalmers University, Sweden.
Development of high performances numerical tools for reactive and multiphase flows: Introduction of multi- component spray evaporation in the flow solver YALES2 (unstructured low-Mach) and SiTComB (structured fully compressible).
Simulations of an industrial system at several operating points.
Optimization of the industrial incinerator DeNOx process with numerical simulations.
Development of a low order stochastic model of the incinerator for process control.